This Savage Song
Author: V. E. Schwab
Narrator: Therese Plummer
Rating: 3.8/5
Genre: YA Dark Fantasy
"But the teacher had been right about one thing: violence breeds.
Someone pulls a trigger, sets off a bomb, drives a bus full of tourists off a bridge, and what's left in the wake isn't just she'll casings, wreckage, bodies. There's something else. Something bad. An aftermath. A recoil. A reaction to all that anger and pain and death."

– Victoria Schwab, This Savage Song
This is the darkest version of Romeo and Juliet I have yet to see, and of course, I loved it. In a city divided by monsters, the rich have sought protection from Kate's father, Callum Harker. The poor struggle to stay safe, banding together in the Flynn Task Force, led by Henry and Emily Flynn, August's adoptive parents. Except that August is a monster himself. He struggles with the reality of his world. He is a sunai, a type of monster who devours the souls of sinners. August and Kate discover that forces are at work to cause a war between the two sides, and are forced to band together to save the city.
Both August and Kate are unique anti-heroes that made this story refreshingly wonderful to read. It was Romeo and Juliet without the romance, and if Juliet was a courageous, independent, badass. And Romeo was a soul sucking monster.
Also, there's the inherent message that the true monsters aren't always obvious, which, cliché though it may be, works with the nature of this book.
Kate might be a delinquent, after all she's been kicked out of 6 schools in 5 years, but everything she does is calculated and with purpose. She's determined to prove herself to her father and to the world. Yes, of course, she has daddy issues. Most of the thematic motives are cliché and used, I mean, it was inspired by Romeo and Juliet, so what did you expect?
Honestly, I did not expect to like it as much as I did for that reason specifically. I love Shakespeare, but hated his star-crossed lovers. They were way too dramatic, even for teenagers. Seriously, HE KILLED HER COUSIN. That, however, is a post for another day. Or maybe a thesis.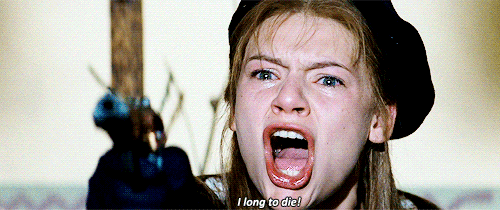 *ahem*
Anyway, the characters motivations are thoroughly thought out, which makes the book predictable, but also enjoyable in its predictability. The world building is intensive and unique, as we've come to expect from Ms. Schwab.
My favorite part of the book was the lyrical tone of the writing. August feeds off of souls through his music, which doubles as an outlet for his (teenage?) angst. The prose of his narrative emphasizes the metaphor of music as a representation of life in a beautiful way. I also loved the way that Ms. Schwab toyed with the motif that all actions have consequences, in this case the darkest acts resulting in literal monsters. 
This review is starting to feel a little bland to me now… This book was a fun read, but nothing to write home about. If I hadn't had the audiobook, I probably wouldn't have finished it as quickly as I did. This is a great read for when you know you'll constantly be interrupted, and of course a fun twist on a classic love story. Minus the romance.